The fertility preservation options
This section has information about the fertility preservation options for women with cancer before they start their cancer treatment.
You can choose:
No fertility preservation – starting cancer treatment straight away.
Freezing – methods of preserving eggs, embryos or ovarian tissue.
Ovarian suppression – a method of protecting the ovaries during cancer treatment.
Specific surgery – fertility sparing surgery may be an option for some women.
The diagram below shows the fertility decisions for women to think about, before starting cancer treatments.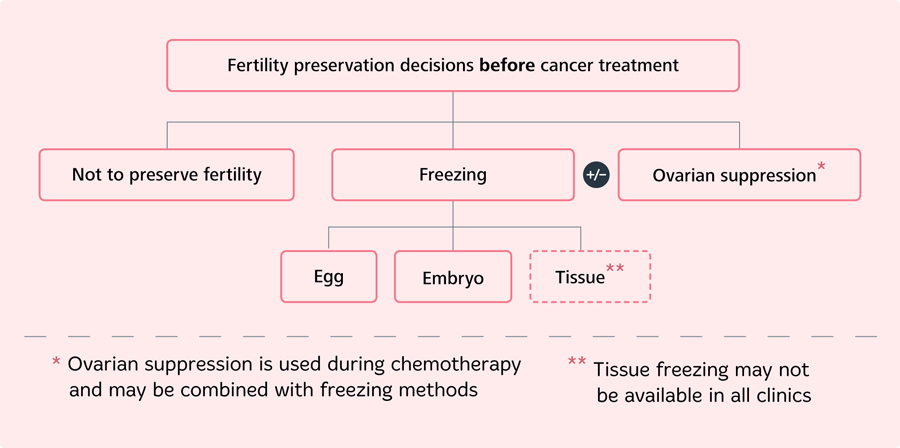 Each fertility option has a different chance of success and no method works 100% of the time. The success rates for each procedure will be different for each woman. None of them can guarantee you will get pregnant and have a baby after cancer treatment.
Not all of the procedures are available in every fertility clinic. Some are newer techniques and not yet proven to be successful with a large number of women. Your cancer care team and fertility care team can advise you further and discuss the options available to you.
Not all women starting cancer treatment will need to consider these options. The opportunity to talk to someone and to become informed about your options can be of value. This could help you make the right decision for you and your personal situation.
The information in this section looks at each fertility preservation option in more detail. It explains the process and outlines the success and side effects associated with each procedure. This summary table compares the different fertility preservation options.